Read our Annual report to find out how Healthwatch Thurrock has been making a difference in the community during this last year.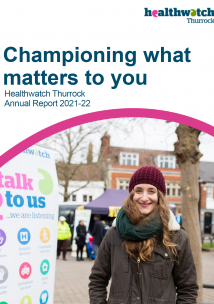 Find out how we've made a difference throughout the year, our biggest projects include:
Working alongside volunteers to help isolated residents access advice and guidance and medication during the pandemic.
Speaking to residents about their experience using services and getting information since the beginning of the pandemic.
Working with community groups to get back out and undertaking face to face engagement with residents.
Speaking to residents about how the pandemic affected their mental health and how they accessed mental health support during the pandemic.
Undertaking engagement with partners at CVS for the Health and Wellbeing Strategy, speaking to residents about what they felt priorities should be locally.
Holding a Facebook Live Event to allow local residents the chance to speak to members of the Primary Care team about GP access.
Engaged with local residents to find out their experiences accessing dentistry services since the pandemic.
Engagement for our Carers Report, hosting workshops in schools and collaborating with local organisations to maximise reach to unpaid carers in the area.