Lung Health Check Scanners arrive in Thurrock!
The long-awaited Targeted Lung Health Checks for Thurrock have begun with the first CT scanner mobile units arriving on 7 December at Thurrock Community Hospital.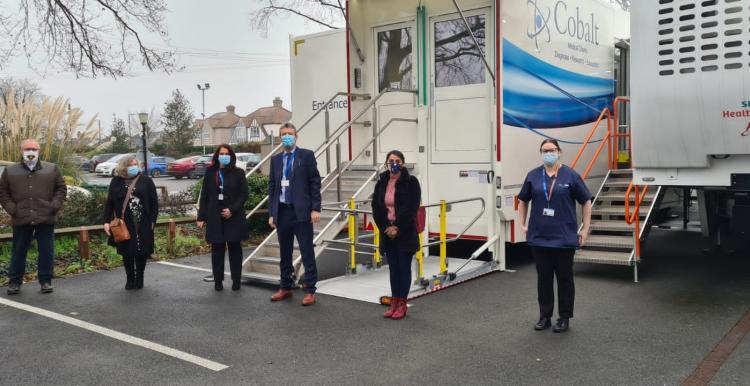 The mobile units, provided by Cobalt Health Medical Charity in partnership with Siemens Healthineers, enable COVID safe CT Scanning to patients at risk of lung cancers.
Thurrock Clinical Commissioning Group (CCG) has been twinned with Luton CCG as part of 14 Cancer Alliance areas across the UK to roll out a Targeted Lung Health Check programme. 
Thurrock has one of the highest rates of death from lung cancer in the UK and some of the highest rates of smoking with over 10% of the local population labelled as smokers. The programme is one of the first to be rolled out as part the NHS Long Term Plan.
This is an exciting realisation of lots of work to bring these CT scanners to Thurrock. They will begin for two weeks from 7 December, then return again in early January moving around the borough to be closer to where people live.  The programme involves specific patients being invited to an initial remote lung health check, completed by qualified nurses from NELFT's Respiratory team. Those patients found to have a high-risk score following that check will be invited to take up the CT scan. "Patients should be assured that the whole process has been made COVID secure and the brand new facilities will provide first class care.
Thurrock is really lucky to be one of the areas to be selected for NHS England's lung health check programme. We expect about 3,400 people across the country could have their lung cancer diagnosed earlier through this initiative. In Thurrock alone, the programme will allow hundreds of people to receive potentially life-saving treatment for conditions much earlier than they would have before. We're here to help the people of Thurrock understand the huge benefits of this initiative, so they seize this golden opportunity with both hands.
Existing and former smokers aged between 55 and under 75 across Thurrock will be invited in a phased way, to have a free lung health check with a lung specialist at a convenient location close to where they live. If required, they can have a low dose CT scan on the spot.
Only those meeting the criteria will be invited to take part in the programme.  Stop Smoking services are always available and ready to support you in leading a healthier lifestyle and giving up smoking.
The first invites went out in November 2020 and we expect the programme will last for four years.
To find out more visit: www.lutonandthurrocklunghealthcheck.nhs.uk